Our Declaration of Independence
The significance of America's independence and our freedom is something we shouldn't lose sight of while making our cook-out plans with family and friends. I, personally, make a point of taking a little time on the 4th of July to read the Declaration of Independence. I will do so again this year before I make my way to the parades in Birch Run and Fenton, and the area's fireworks. It is so important to remember and cherish what our nation's founders fought for. It is the best way to guarantee our future.
The events that lead to the birth of our constitution and independence serve as an important reminder, particularly in today's political climate. The fathers of our country believed that the power of government should be in the hands of the people and many gave everything they had to ensure that for future generations.
Today, it may seem as though the politicians in the Legislature and Congress are distant, but we must remember that this is indeed a government for and by the people. The laws of this country should provide each man and woman with the ability to control their own destiny, just as our founding fathers wished to do. I find in our Declaration of Independence a renewed sense of patriotism and duty to preserve our principles for generations to come.
I recognize that while Michigan's economy has seen growth in recent years, we still have work to do. There are families that still face uncertainties every day but, with all the troubles we face, it is comforting to know that our greatest strength still lies in the patriotic American citizen.
I encourage you to make the Declaration of Independence a part of your July 4th celebration. We should share the story of American history with our children, much like many of us make the nativity story part of our celebrations at Christmas time.
I'm confident that reviewing the words of the founding documents with your children and grandchildren will bring substance and clarity to your weekend, and you'll come to your appreciate the multitude of freedoms we still enjoy in the United States of America.
Click here for a copy of the Declaration:
http://www.archives.gov/exhibits/charters/declaration_transcript.html
Happy 4th of July!
God Bless the U.S.A.
Horn Hometown Tours: Bavarian Inn Restaurant
My latest stop on my Hometown Jobs tour took me to my hometown of Frankenmuth, Michigan's own Bavarian city, for part one of a special three-part series. The first stop in Frankenmuth was at the
Bavarian Inn
, which holds a great deal of significance to me because it is where I was hired for my first job in Frankenmuth.
It was amazing to be back where it all started. Driving by the location downtown, I often remember the many days I spent in the restaurant, so it was a great experience to actually go back behind the scenes where the world-famous chicken dinners are prepared. Upon arrival, I was greeted by staff and Frankenmuth's own Dorothy Zehnder, who has been with the Bavarian Inn since its formation in the 1950s.
Making our way back through the hectic kitchen, Dorothy still spoke to me as if I was still working there — discussing the various jobs that needed to be done and in which order they needed to be completed. As things were getting ramped up for lunch and entrées were still being prepared, we began the day by working on the dessert line preparing and portioning out desserts. From rhubarb cobbler to ice cream pie — I received a hands-on lesson from one of the nation's most experienced chefs.
Working under Dorothy was an absolute honor. We're talking about one of the most, if not the most experienced hospitality specialist in the nation. It's no coincidence that the food and atmosphere here have garnered interest on a global level. The mixture of experience, ethnicity, passion and fresh ingredients creates a once-in-a-lifetime dining experience. Unless you come back, you'll never experience anything else like it.
Fresh food and local ingredients are just one of the many trademarks that the Bavarian Inn is famous for. They remain dedicated to using as many ingredients from Michigan as possible. From Posen potatoes, to Pinconning cheese, to Hillsdale apples and maple syrup from the Zehnder's very own estate — only the freshest ingredients will make it to your plate.
After the desserts were prepared and the lunch hour had arrived, I headed to the line to expedite orders with the wait staff. Dressed in what has become my trademark lederhosen, I carried trays, delivered meals and met with diners to discuss my role for the day.
I had forgotten how difficult this work can be. The trays can be heavy and are often very unstable. It takes special skill to maneuver your way through a hall of hungry patrons as you balance a plastic tray full of several fragile glass items on your shoulder.
One of the most intriguing aspects of this tour to me was the history of the Bavarian Inn. The business model has been successful since the late 1800s, and over the years the Zehnder name and the 'all-you-can-eat chicken dinners' have grown to worldwide popularity. They serve nearly 1 million people, 350 tons of chicken and 250,000 pounds of potatoes on an annual basis — that is an incredible American story.
The Bavarian Inn Restaurant was originally founded as the Union House Hotel in 1888 and later renamed Fischer's Hotel, where the "all-you-can-eat chicken dinner" officially started. The Zehnder family later purchased Fischer's Hotel in 1950 and after a few bleak years, remodeled the location with the popular Bavarian theme, which it still boasts to this day. A week-long ceremony was held during their grand re-opening marking the official beginning of what is now known as the Bavarian Festival.
I want to give special thanks to Dorothy Zehnder and Amy Grossi for allowing me to visit and work in the restaurant. It brought back vivid memories of my early days working here and was a wonderful, nostalgic afternoon. It was great to feature one of the gems of my own community. Remember, however, to stay tuned for part two, where we will stop at Bronner's for a Christmas in July special.
'Skilled Trades Regulation Act' introduced in Senate
I recently led the introduction of a package of bills that will update and improve guidelines for skilled trade professions.
Senate Bills 963
-972 will streamline more than 30 years' worth of statutes to create the Skilled Trades Regulation Act (STRA) in Michigan. The state currently operates under what are considered by many to be ambiguous regulations that have been pieced together over the past three decades. These statutes lack modern language with regard to application and complaint processes and enforcement of penalties.
Creation of the Skilled Trades Regulation Act will update and revise the relevant laws into one universal code that would ensure they meet the highest standards for enforcement and efficiency. The STRA seeks to remedy several inconsistencies within the state's skilled labor industries. By basing the law off guidelines from both the Michigan Occupational Safety and Health Act and the state's Public Health Code, this legislation would create uniformity and consistency among application, renewal, and testing processes for all skilled-trade licensees.
The act also brings attention to the issue of individuals who are licensed across multiple trades. Under current law, obtaining licensure for more than one trade is often tedious due to the several varying statutes and processes that can be involved. The STRA seeks to improve this by providing a single avenue for licensure and renewal for those who are licensed in several professions.
We want to encourage our current and upcoming generations to seek education, training and experience within the skilled trades — the modernization of these statutes will do just that. Our goal is to ensure that the new act reflect the safest, most efficient, and highest standards in each respective industry and that our skilled trades applicants face minimal barriers obtaining work in their field of choice.
The following senators joined me as sponsors of other bills in the package:
Ken Horn – SBs 963, 966, 970
Marty Knollenberg – SB 967
Peter MacGregor – SB 969
Tonya Schuitmaker – SB 972
Wayne Schmidt – DBs 964, 965, 971
Dale Zorn – SB 968
SBs 963-972 have been referred to the
Senate Committee on Regulatory Reform
for consideration.
Budget continues Michigan's positive momentum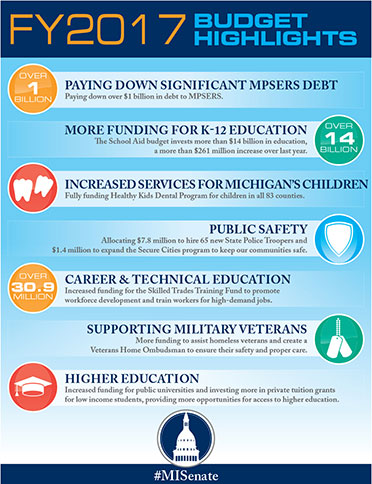 The Legislature recently finished up work on the state budget, and for the sixth consecutive year, we wrapped it up months before the start of the new fiscal year.
The plan reflects the priorities of Michigan families, including quality education for our children and public health and safety, while providing a strong foundation for economic growth. Some of the key investments include:
Increased funding for K-12 and higher education, providing more than $14 billion for education;
$660,000 to pay all remaining debt left over after the Buena Vista School District was dissolved in 2013;
Full funding of the Healthy Kids Dental Program to include children in all 83 counties;
Added funds to hire 65 new State Police Troopers;
More funding to assist homeless veterans and create a Veterans Home Ombudsman; and
Increased funding for career and technical education to train workers for high-demand jobs.
At the same time, the budget strengthens the state's finances by paying down over $1 billion in debt and continues our commitment to fiscal responsibility by ensuring government lives within its means.
Click for more information:
Senate Bill 801
/
House Bill 5294
.
Michigan agriculture — always in season!

From apples to tomatoes, Michigan produces more than 300 commodities on a commercial basis, making our state second only to California in agricultural diversity.
Whether you shop at a local market, stop at a roadside stand or take a culinary tour, summer is a great time to sample Michigan fresh-food goodness first-hand! Visit
www.michiganfarmfun.com
to access the
2016 Michigan Agritourism Directory
and discover family friendly destinations from every region of the state, including u-pick farms, petting zoos, farm stays, farm markets and more.
Enjoy summer fun by fishing in Michigan

With 154 species of native and naturalized fish, there's no better way to enjoy the great outdoors than fishing in Michigan! Anglers can find regional information on conditions and fishing hot spots, as well as fishing tips, at the DNR's Weekly Fishing Report. Access it online at
www.michigan.gov/fishing
or call toll-free 855-777-0908 for a recorded message. The fishing website also includes a page on Family Friendly Fishing Waters. The water bodies are identified as family friendly based on ease of access, amenities (restrooms!) and high likelihood of success in catching fish. Other information includes geographic location, hours of operation, species of fish available, typical bait and more.