Office Hours
I will be holding office hours on Monday, October 2nd from 7:30 am – 9:00 am at Marge's Donut Den, 1751 28th St SW, Wyoming, MI 49519.
I will be available to answer questions and respond to concerns any residents of the district may have. Office hours are a one-on-one meeting with constituents, and in order to see as many people as possible please keep the conversation to ten to fifteen minutes. If your question requires additional time, please contact my office to set up an appointment.
For more information or to contact my office, please visit
SenatorPeterMacGregor.com
or call 1-855-347-8028.
MacGregor backs bills to improve specialty courts
Michigan has 185 "problem-solving" courts, programs that aim to improve outcomes for offenders and reduce the rate of recidivism.
These specialty courts, including drug treatment, sobriety, mental health and veterans treatment courts, focus on treatment and other services to address an offender's underlying problems, such as substance abuse or mental health issues, to help them turn their lives around.
I recently supported Senate legislation to improve this system by requiring the specialty courts to follow the same procedures and standards. Under Senate Bills 435-438, the courts would have to be certified by the State Court Administrators Office. Certification would help ensure more consistent outcomes and increase the effectiveness of the courts. The bills have been referred to the House Committee on Law and Justice.
Consumer alert addresses Equifax security breach
Millions of Michigan residents may have had their personal information compromised through an alleged security breach at Equifax, one of the country's major credit reporting agencies. The Michigan attorney general's office recently released a new consumer alert outlining steps to protect against identity theft, and to request a credit report and freeze, along with links to additional resources. Access the
Equifax Breach Consumer Alert
at
www.michigan.gov/a
g.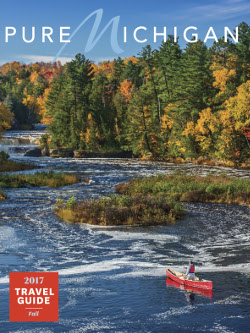 Pure Michigan Fall Travel Guide now available
Autumn in Michigan is a special season! Our state's waters and woodlands offer postcard-perfect views and countless opportunities for outdoor adventure.
From scenic drives and hikes to weekend getaways to culinary destinations, the
2017 Pure Michigan Fall Travel Guide
highlights places to go and sights to see across our great state. Access the digital version and sign up for weekly fall color updates at
www.michigan.org
or contact my office to receive a free print copy.
Hunters hunting outside of Michigan must follow new cervid rules
Michigan has a rich hunting heritage. New cervid importation regulations will help protect the state's deer population to ensure our hunting tradition stays strong.
To help keep potential cases of Chronic Wasting Disease (CWD) from unintentionally being brought into Michigan, hunters who harvest a cervid (deer, moose or elk) in
any other state or province
can only import certain parts, such as hides, deboned meat, quarters, finished taxidermy products, cleaned teeth and antlers.
CWD is a fatal, contagious neurological disease. In 2015, a free ranging deer in mid-Michigan tested positive for CWD. Since that discovery, nine animals have tested positive for the disease. The state has taken aggressive steps, including these new regulations, to help contain this threat. Those hunting in Michigan within areas where CWD has been found must follow specific regulations as well. For more information, visit
www.michigan.gov/cwd
.

MacGregor supports bill to improve Safe Delivery of Newborns law

Sometimes parents are unable or unwilling to care for their new baby.
Since 2001, Michigan's Safe Delivery of Newborns law has provided parents with an option to safely surrender their newborn – within three days of birth – to an emergency service provider. The law offers an anonymous alternative to abandonment and allows for a baby to be placed in a loving, adoptive home. Michigan recently achieved an important milestone in keeping babies safe and healthy with the news that 200 newborns have now been surrendered.
Earlier this year, the Senate passed legislation to further ensure confidentiality of the surrendering parents.
Senate Bill 215
would clarify that the names of the parents can be excluded from the birth certificates of infants surrendered under the law. The legislation has been sent to the House for consideration.
Michigan residents can apply for REAL ID-compliant driver's license or ID card
Michigan motorists now have the option to obtain a driver's license that complies with a federal mandate designed to strengthen our national safety and security.
Beginning Oct. 1, 2020, Michigan residents must carry a driver's license or ID card that complies with the federal REAL ID Act, or present a valid U.S. passport, to fly in the United States or visit federal buildings. The REAL ID security standards were created in the wake of the Sept. 11 terrorist attacks to help prevent illegal altering of the cards and deter fraud and misuse.
Michigan residents can apply for the REAL ID-compliant license or ID card at any Secretary of State office — applicants will need to bring a certified birth certificate or other approved document. There is no extra cost when renewing your driver's license or ID card; at any other time, a duplicate card fee will apply. Find more information, including a list of Frequently Asked Questions, at
www.michigan.gov/sos
or call the Department of State Information Center with questions at 888-767-6424.
West Nile virus confirmed in Michigan
The Michigan Department of Health and Human Services recently confirmed four human cases of West Nile virus for 2017. The virus is carried by certain types of mosquitoes.
Most people who become infected will not develop any symptoms of illness or will have a mild illness with fever, though some people may become severely ill. More information, including signs and symptoms, treatment and prevention, is available at
www.michigan.gov/westnilevirus
.
Link to all things Michigan
From job openings to traffic news to hunting information and more, the free MiPage app allows users to search for multiple services all in one place. You can even check out upcoming events in your city! Learn more at
www.michigan.gov/mipage
.