Senator Hildenbrand backs new law to protect students
With the school year beginning, it's important that students and parents are aware of a valuable resource. The OK2SAY program encourages students to anonymously report threats to trained authorities without fear of retaliation.
Senator Hildenbrand recently supported Senate legislation—now law—to continue this important program that helps prevent tragedies before they happen. Public Act 100 of 2017 (Senate Bill 267) extends the OK2SAY program until Oct. 1, 2021. Students can access the 24-hour confidential OK2SAY hotline via mobile text, phone, email and by its website and mobile app.
For more information on the OK2SAY program
click here
.
Senator Hildenbrand supports legislation to fight prescription drug abuse
According to an interim report recently released by the President's Commission on Combating Drug Addiction and the Opioid Crisis, 142 Americans die every day from a drug overdose. More than six out of every ten drug overdose deaths involve an opioid.
To combat this, the Michigan Senate passed a package of bills to fight opioid abuse in our state earlier this summer. One provision limits prescriptions for acute pain to seven days to help reduce the chance of unused pills.
Other provisions crack down on "doctor shopping" and "pill mills" by requiring physicians to have a bona fide prescriber-patient relationship and consult the Michigan Automated Prescription System (MAPS) before prescribing certain controlled substances. The legislation also requires doctors to provide the patients being treated for an opioid overdose with information on substance use disorder services to help with addiction treatment and support options. The bills have been sent to the House for consideration.
Fighting the threat of Asian carp
Efforts to keep Asian carp out of the Great Lakes are moving ahead on two fronts.
Michigan recently launched a global search for ways to stop these invasive fish from reaching the Great Lakes. Called the Invasive Carp Challenge, the program is accepting proposals through Oct. 31, 2017 to develop new solutions to this looming threat. One or more solutions will share up to $700,000 in cash awards. Visit
http://www.michigan.gov/carpchallenge
for more information.
In addition, the Army Corps of Engineers has now recommended a tentative plan for Brandon Road Lock and Dam in the Chicago Area Waterway system to prevent the inter-basin transfer of aquatic nuisance species. The plan includes nonstructural measures, complex noise, water jets, engineered channel, electric barrier, flushing lock, boat launches and mooring area. Find more information and submit comments online at
http://glmris.anl.gov
.
Report fish and wildlife observations on new DNR app
A new computer application developed by the DNR consolidates 15 separate fish and wildlife observation forms onto one site. The Eyes in the Field app includes forms for reporting diseased wildlife, tagged fish, mammals such as cougars and wolves, fish such as invasive carp and sturgeon, and more. The site does not replace the Report All Poaching (RAP) hotline (800-292-7800), although it provides a link to the web-based RAP complaint form. Check it out at
www.michigan.gov/eyesinthefield
.
ArtPrize Nine to begin September 20th
It is that time of year again, when Grand Rapids will transform itself into a radically open, independently organized international art competition!
For 19 days, around 400,000 attendees descend upon three square miles of downtown Grand Rapids where art from around the world pops up in over 160 venues, including museums, galleries, bars, restaurants, theaters, and much more! All venues are free to the public and take place from September 20th through October 8th.
For more information regarding ArtPrize including artists and venue locations please visit
http://www.artprize.org
.
Sound The Alarm, save a life
This fall, the Red Cross will launch Sound the Alarm, a series of home fire safety and smoke alarm installion events nationwide. Volunteers will intall 100,000 free smoke alarms in high risk neighborhoods, culminating in the installation of the one millionth smoke alarm.
Since 2014, the Red Cross, in partnership with fire deparments and other local groups, has visted homes installing free smoke alarms, replacing batteries in existing alarms, and providing fire prevention and safety education to prevent needless tragedies.
You may sign up to receive your fire escape plan, preparedness information, and free installed smoke alarm by visting
http://www.redcross.org/local/michigan/home-fire-safety
or calling (248) 574-9732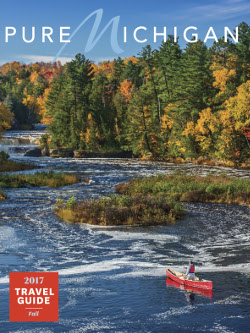 Order your free Pure Michigan Fall Travel Guide
The
Pure Michigan Fall Travel Guide
highlights fascinating sights to see, intriguing places to go, and great activities to participate in throughout Michigan.
To order a printed version or view the digital edition of the 2017 Pure Michigan Fall Travel Guide please visit
http://www.michigan.org/travel-guide
.
MDOT 2017 construction map
The 2017
Paving the Way
state construction map is now available online at
www.michigan.gov/mdotmaps
. The map details the major road repairs scheduled this season on state highways and trunk lines, along with the construction dates.