Senator Hildenbrand supports cancer drug coverage legislation
Michigan cancer patients should have access to the most effective chemotherapy treatments to successfully treat their disease, without having to worry about the additional cost of specific treatments.
However, high costs in the way some medications are administered can be a deciding factor in a patient's treatment decision. If a patient in Michigan needs anticancer medication in pill form, it is often covered as a health insurance plan prescription benefit, requiring a patient to pay for part of the treatment. This out-of-pocket cost can run thousands of dollars a month. Intravenously administered or injected chemotherapy medications are commonly covered as a health insurance plan medical benefit and don't require the patient to pay an additional fee for the medication.
Senator Hildenbrand recently supported Senate Bill 492, which would require health insurance policies to cover oral cancer treatments in the same way that intravenously or injected anticancer treatments are covered. This bill has been sent to the House for further consideration. If the legislation is adopted and signed into law, Michigan would join 43 other states with oral chemotherapy parity.
MI Student Aid offers scholarship search
Many high school students and their parents are looking for ways to help pay for a college education. The Department of Treasury's MI Student Aid program provides a scholarship search tool that connects students with thousands of possible scholarship opportunities throughout the state. Students or their families can complete and submit a brief online survey at
www.michigan.gov/mistudentaid
. Service representatives will search for Michigan scholarships and email a detailed report within a week. Along with Michigan place-based scholarships, the program connects students to Michigan college and national scholarship opportunities.
Invasive Carp Challenge receives hundreds of possible solutions
Invasive carp pose a looming threat to the environmental health of the Great Lakes and Michigan's fishing, boating and recreation industries.
A worldwide competition launched by the state for ideas to help stop these invasive fish from reaching the lakes recently ended. The
Great Lakes Invasive Carp Challenge
received 353 entries from 27 countries. The entries will be reviewed by expert judges. Winners of up to eight Stage 1 awards will be announced in February 2018. From there, an event featuring Stage 2 finalists is planned to take place in late March 2018.
Earlier this year, a 28-inch silver carp was caught only nine miles from Lake Michigan, well past an electric barrier system. Hopefully, one or more of the
Challenge
ideas will provide a new and innovative way to protect our cherished Great Lakes. Visit
www.michigan.gov/carpchallenge
for more information.
Pure Michigan Winter Travel Guide now available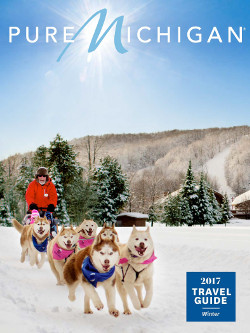 Plan your winter getaway now with the new
2017 Winter Travel Guide
. The 2017 guide highlights fascinating sights to see, intriguing places to go and great activities to participate in all across Michigan. Features include topics related to snow sports, great Michigan food legacies, family fun, and popular winter festivals.
To order a printed version or view the digital edition of the
2017 Pure Michigan Winter Travel Guide
please visit
https://www.michigan.org/travel-guide
.
Senator Hildenbrand supports update to concussion law
Concussions are a very serious injury, and can occur in any sport or recreational activity. In 2012, Michigan enacted a law to help protect our children's health by increasing awareness among coaches, parents, young athletes and others about the dangers associated with concussions.
Senator Hildenbrand recently supported
Senate Bill 352
, now Public Act 137 of 2017, which requires the Department of Health and Human Services to regularly review the state's concussion awareness training program to ensure it is up-to-date on the standards and protocols for treating and preventing concussions. The new law also requires coaches and others involved in youth sports organizations to complete the training program once every three years.
Department of Treasury Warns Taxpayers of Fraudulent Phone Calls
The Michigan Department of Treasury is warning taxpayers of aggressive and threatening phone calls made by criminals impersonating state tax officials.
Within the last couple of days, the state Treasury Department has observed a surge in scam phone calls where scammers are claiming to be state tax officials and asking for cash through a wire transfer, prepaid debit card or gift card. Victims are told they owe money and will face arrest, legal action or suspension of business if not paid promptly.
Scammers are also altering caller ID numbers to make it look like Treasury is calling. The callers may use employee titles, a person's name, address and other personal information to sound official.
Michigan Department of Treasury will never:
Initiate a phone call to ask for personal information.
Call to demand immediate payment using a specific payment method, such as a prepaid debit card, gift card or wire transfer. Generally, Treasury will first mail a bill to any taxpayer who owes taxes.
Threaten to immediately bring in local police or other law-enforcement groups to have the taxpayer arrested for not paying.
Demand that taxes be paid without giving the taxpayer the opportunity to question or appeal the amount owed.
Ask for a PIN, password or access codes to your bank accounts or credit or debit card numbers over the phone.
Taxpayers who don't owe taxes or don't think they owe taxes should hang up immediately if they receive one of these calls. For individuals who owe taxes or think they do, they can call 517-636-5265 to find out their account balance information.
Taxpayers who have received a call from a scammer should report the case to the IRS through the web or by calling 800-366-4484.