Individual Income Tax Filing Season Officially Begins
Effective immediately, Michiganders can start filing their 2017 tax year state individual income tax returns online or through the U.S. Postal Service. All individual income tax returns must be e-filed or postmarked by Tuesday, April 17, 2018.
Choosing electronic filing and direct deposit is convenient, safe and secure. Last year, more than 4.1 million Michigan taxpayers e-filed, which is nearly 83 percent of state income tax filers.
After Feb. 5, limited quantities of printed tax forms will be available at public libraries, northern Michigan post offices, Michigan Department of Health and Human Services county offices and Treasury Field Offices.
For the benefit and convenience of taxpayers, both the beginning and end of the individual income tax filing season are the same as the Internal Revenue Service (IRS).
Tax-Related Identity Theft Protections
In an effort to protect Michigan taxpayers, the state Treasury Department continues to implement security measures to stop tax-related identity theft. As a result, some individual income tax returns may be selected for identity confirmation.
If an individual income tax return has been selected for identity confirmation, the taxpayer will receive a letter from Treasury asking them to confirm their identity by completing a short online quiz or submitting paperwork. A phone option is available for those with functional needs or are not computer savvy.
After a taxpayer confirms his or her identity, their tax refund will be issued in about a month.
Taxpayers who have been recent victims of identity theft are asked to report their circumstances to the state Treasury Department. Reporting identity theft helps thwart cybercriminals who attempt to file returns and steal state tax refunds.
In 2017, increased security measures protected more than 4,000 taxpayers who confirmed their identity was stolen and used to request state of Michigan refunds. This prevented more than $16 million from being distributed to scammers.
To learn more about identity theft, go to
www.michigan.gov/identitytheft
.
Free Tax Help
Seniors and individuals with functional needs may qualify for free tax preparation help from IRS-trained volunteers or Tax Counseling for the Elderly preparers. For information about free tax help, go to
www.michiganfreetaxhelp.org
or dial 2-1-1.
To learn more about Michigan's individual income tax or to download forms, go to
www.michigan.gov/incometax
. For more information about e-filing, go to
www.mifastfile.org
.
Treasury: Resolve to Be Ready for Tax Scams in 2018
As the state of Michigan begins a new year and the state income tax filing season approaches, the Michigan Department of Treasury is asking taxpayers to resolve to be ready for tax scams in 2018.
Cybercriminals typically increase their activity in the first part of the year through phone scams and email phishing schemes. These scammers try to obtain personal information using different tricks and tactics so they can file income tax returns and claim refunds on behalf of unsuspecting taxpayers. Some scammers may also allege a taxpayer owes taxes and aggressively demand payment for a quick payout.
Treasury will never:
Initiate a phone call or email to ask for personal information.
Call or email to demand immediate payment using a specific payment method, such as a prepaid debit card, gift card or wire transfer. Generally, Treasury will first send a bill through the U.S. mail to any taxpayer who owes taxes.
Threaten to immediately bring in local police or other law-enforcement groups to have the taxpayer arrested for not paying.
Demand that taxes be paid without giving the taxpayer the opportunity to question or appeal the amount owed.
Ask for credit or debit card numbers over the phone.
Cybercriminals often alter caller ID numbers and emails to make it look like the state Treasury Department, the Internal Revenue Service or another official agency is contacting a taxpayer. Scammers may use employee titles, a person's name, address and other personal information to sound official.
Taxpayers who are contacted by a scammer should immediately cease the call or delete the email.
In 2017, the state Treasury Department's increased security measures protected more than 4,000 taxpayers who confirmed their identity was stolen and used to request state of Michigan income tax refunds. This prevented more than $16 million from being distributed to scammers.
Taxpayers who have received a call or email from a scammer should report the case to the IRS
through the web
or by calling 800-366-4484. To learn more about tax-related identity theft, go to
www.michigan.gov/identitythef
t.
Senator Hildenbrand supports new laws to improve unemployment benefits system
The Senate unanimously passed a bipartisan package of bills - now signed into law - to reform and improve Michigan's Unemployment Insurance Agency.
The reforms help fix problems created by the automated fraud system in which more than 37,000 people were wrongly accused of fraud and lost their benefits from 2013 to 2015. The agency has required human review in making a fraud determination since August 2015. Under the new laws, claimants accused of fraud will also have access to an advocacy program for better representation.
The changes also create a new process to handle potential identity theft claims, an ever-increasing problem. Among other provisions, this measure allows benefits to stop when the agency receives an affidavit from a person with a stolen identity and establishes a position similar to an "inspector general" to investigate fraud and make recommendations to improve integrity and accountability within the program.
Public Acts 225-232 of 2017
received the support of business and labor groups, as well as the state unemployment agency.
Michigan Department of Education Launches "Parent Dashboard" for School Transparency.
The Michigan Department of Education, in collaboration with the Center for Educational Performance and Information (CEPI), launched its new "Parent Dashboard" for school transparency today. This online dashboard is available on the
mischooldata.org site.
The new dashboard is designed especially for parents and other caregivers to provide the information they care about most when learning about their children's schools.
This Parent Dashboard is an integral component of the state's Strategic Plan to make Michigan a Top 10 education state in 10 years. It builds on the Strategic Partnership with Parents, Families, and Community Services that encourages and promotes meaningful, authentic engagement with parents and families.
In support of the dashboard, MDE has developed various informational tools for schools to share with parents including:
And more, available at:
www.michigan.gov/mde-ParentDashboard
.
Many forest roads in northern Lower Peninsula open to ORV use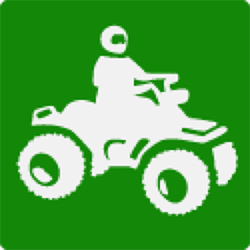 More than 6,300 miles of roads in Michigan's northern Lower Peninsula state forest system are now open to off-road vehicles, while about 1,200 miles of road remain closed. The plan balances motorized recreational access with resource protection and safety. Signs will be installed on roads closed to ORV use as soon as possible, depending on ground conditions. Riders should check DNR maps at
www.michigan.gov/forestroads
to make sure roads are authorized for ORV use.
Roads in the state forest system in the Upper Peninsula are also open to ORV riders; those in the southern Lower Peninsula will open Jan. 1, 2019.
Stay winter ready
Winter weather can be challenging in Michigan! If the power goes out, water and gas may not be available. A fully stocked preparedness kit can be helpful during an emergency or disaster. According to the Michigan State Police, a household kit should contain - at a minimum - food, water, a first aid kit, a flashlight with extra batteries, clothing and a blanket.
Find a recommended checklist of emergency kit items, a pet preparedness kit checklist and many other resources at
www.michigan.gov/miready
.
Senator Hildenbrand backs Michigan first-time home buyer savings program
To ensure Michigan is an attractive place to work and live, it's important that housing is affordable for the next generation of homebuyers.
Senator Hildenbrand recently supported legislation that would help residents save enough money to buy their first house.
Senate Bill 511
creates a first-time homebuyer savings plan. Funds in the account could be used toward a down payment or allowable closing costs.
Senate Bill 512
provides an income tax deduction of up to $5,000 for a single return and $10,000 for a joint return for contributions and interest earned. The legislation provides a great incentive to encourage young people and new families to stay and settle in our state. The bills have been sent to the House for consideration.
Free Fishing weekend
Anglers, check out Michigan's annual Winter Free Fishing Weekend! This great event falls on Feb. 17 and 18 this year. All fishing license fees are waived for residents and out-of-state visitors on both inland and Great Lakes waters for the two days. All other fishing regulations still apply.
Visit
www.michigan.gov/freefishing
for information on special events and activities. A Michigan Department of Natural Resources (DNR) Recreation Passport will not be required at any state park or recreation area during the free fishing weekend.